Big Bro was a Football, Assault Course, Sumo and Tug of War entrant in Techno Games 2002 and 2003. It was a weaponless version of Robot Wars Bigger Brother. It is now competing in the live circuit. It also fought in BattleBots as Bigger Brother for Season 2 and Little Sister in the later 3 Seasons.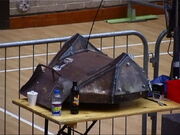 It worked with British Bulldog in the Football competition, forming Team BB. Team BB beat Terry Turtle and Bugs Buggy in round 1 of the Football. Their semi-final match was against Storm Chaser and Sprocket, the match was even until Big Bro got stuck on one of Storm Chaser paddles and the goals then piled in from Storm Chaser.
It beat Mighty Mouse in Round 1 of the Tug of War after pulling it off with ease. It then lost to Sprocket in round 2 and then lost to it Football partner in the play-off.
It entered the Sumo, setting a WR time in round 1 against Sprocket. It then met and beat Hell Bound in round 2. In the final, it met Storm Chaser and got underneath its opponent first and thrown it off the edge, claiming the Gold.
In the Assault Course, it beat Sprocket in round 1 whilst smashing the record, it had however pushed its way through the blocks, leading to penalty points being added to its time. It beat Smash and Grab in round 2. It lost to Wolf in round 3 but won the play off against Technomoth to claim the Bronze medal.
Big Bro lost its status of Sumo champion this year after All Torque took advantage of the scoop getting bent out of shape by its attempts to get under All Torque and pushed Big Bro off.
Team BB met Typhoon Rover and Typhoon 870 in their third Football match, winning two-one.
Big Bro also met Typhoon Rover in the first round of the Assault Course, where it lost to the eventual champion but qualified regardless due to its time. It continued to beat champions Bugs Buggy in the quarter finals before losing to Mighty Mouse in semi finals.
Community content is available under
CC-BY-SA
unless otherwise noted.