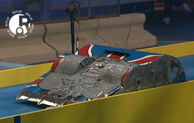 British Bulldog was a Sumo, Assault Course, Tug of War and Football entrant from Techno Games 2002 and 2003. It entered Robot Wars as Bulldog Breed and entered Series 3 to 7 and both series of Extreme. It has now being repaired and has returned to the live circuit.
It formed Team BB when it worked with Big Bro in the Football competition. Team BB beat Terry Turtle and Bugs Buggy in round 1 of the Football. They lost their semi-final match was against Storm Chaser and Sprocket, the match was even until Big Bro got stuck on one of Storm Chaser paddles and the goals then piled in from Storm Chaser.
It beat Chip in round 1 but lost to Storm Chaser in Tug of War, however it then beat its Football partner to win the play-off and the Bronze.
It then competed in the Sumo event, losing to Storm Chaser in the first round.
British Bulldog returned for the Football competition the following year along with Big Bro to form Team BB again. Team BB met Typhoon Rover and Typhoon 870 in their second Football match, winning two-one.
It also returned for the Sumo, beating Wipeout in round 1, driving off after it though.