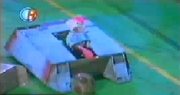 Bugs Buggy 
 was a
Assault Course
and
Football
entrant from Techno Games 2002 and 2003. Bugs Buggy was a weapon less version of Robot Wars Hydra.
It beat Mulsanne Monster in round 1 of the Assault Course before winning by default against Transpower after Transpower had impeded its progress in round 2. It beat Technomoth in the Semi final before beating Wolf to become champion.
It worked with Terry Turtle in the Football but lost to Team BB in round 1.
It competed in the Assault Course again, beating Blazer in round 1 after Blazer fell off the ramp, getting tipped onto its side after Bugs Buggy drove over the ramp. Bugs Buggy was the slowest qualifier. It lost in the second round to Big Bro.
It gained a new partner for the Football and formed Team Mouseketeers as it now worked with Mighty Mouse. It lost to Team Flash, losing two-one.