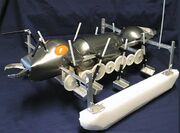 "The story of Buoyant began back in 2000 when James and Simon were watching Robot Wars, when the series ended it was replaced by Techno Games which Simon thought looked like fun and something he could do with James who was 8 at the time."
— The team's website
Buoyant was built for Technogames 2002. The team behind Buoyant entered Robot Wars Series 6 and Extreme 2 with Chompalot. On TV, Buoyant was erronously spelled as Bouy-Ant.
Components
Edit
The chassis is aluminium angle, joined with M3 screws and nuts
Motors - 2 x 540 rc car motors
Transmission - The Mk1 drive train was the wormdrive gears taken from a windscreen wiper motor, which then drive the paddle gears.
RC - JR McGregor 40 MHz borrowed from Chompalot.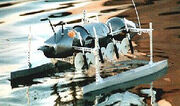 "We were invited to Shepperton studios for the trials for the qualifying event, where Buoyant was put through his paces on a quite deep paddling pool, He must have looked sufficiently reliable as we qualified for the show."
— Simon Cook
Buoyant was up against Roboduck, Jigosaurus, Turn Turtle and Stealth Stingray in its heat. Buoyant was ponderous at first but careful in driving. As both Jigosaurus and Turn Turtle immobilised themselves, Buoyant and Stealth Stingray fought for second place as Roboduck had already finished, they were neck and neck. Buoyant came in second in its heat to Roboduck, beating Stealth Stingray with a time of 35.97 seconds.
Buoyant returned in 2003 in Heat A where it came first with a vastly improved time of 11.22 seconds, narrowly missing the world record set by Marlin the previous year. They were leading their second round race but capsized and subsequently failed to finish.
Outside Techno Games
Edit
Team Cookie Monster appeared in Techno Game's sister show Robot Wars with machine Chompalot who lost in Round one of the Sixth Wars but was champion of the Iron Maidens contest.
As of 2016, Buoyant Evo 3 is currently on loan to Derby Silk Mill Museum of Making.