Critter was a petrol driven walker from Reading in Bershire that competed in the Heavyweight Sprint during Series 3 of Techno Games in 2002. It was finished in twelve months and is powered by starter motors. It didn't do well as it lost in its heat to Scuttle-B-Squared and didn't finish to qualify for the Heavyweight Sprint semi-finals.
Critter's successor, Cyborg, was also built for the Heavyweight Sprint event, and competed in the Techno Games 2003.
Robot History
Edit
Techno Games 2002
Edit
In Critter's first and only heat, it went up against the feared newcomer Scuttle-B-Squared. Scuttle-B-Squared easily passed the slow moving Critter and finished first at 15.19 seconds, which was a new world record. It was over three minutes and Critter almost reached the finish line, but it broke down entirely and did not qualify for the semi-finals as a result.
Outside Techno Games
Edit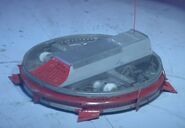 The team also entered Robot Wars with a robot called Ajjay. Ajjay was a circular grey and red robot armed with a set of four flailing arms mounted on its body. It competed exclusively in a Wild Card Warriors battle against Series 4 Grand Finalist Stinger in Robot Wars Extreme Series 1, which it lost on a judges' decision.