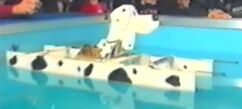 Doggy Paddle Deluxe was a swimming competitior that competed in Series 3 of Techno Games. It broke the record for the fastest time twice and placed 3rd overall.
In the heats, it won and qualified alongside Cyber Duck, beating Crocotron, Erica 2 and Eric the Electric Eel 2 whilst making a new World Record time of 16.34 seconds.
Doggy Paddle Deluxe then outpaced K9000 the 2nd and two other competitors to qualify for the final.
In the final, Doggy Paddle Deluxe was immediately outpaced by Marlin and Brutosaurus, which finished in first and second, and came third after staying ahead of Roboduck the whole race.