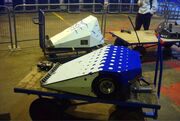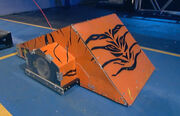 Kat's Whiskers
was a
Football
and
Assault Course
entrant in Techno Games 2002 and 2003. Kat's Whiskers was actually
Kat 3
, a robot that entered Robot Wars in Series 5 to 7, the same team had previously entered Series 3 and 4 with Kater Killer. The Kat's Whiskers in 2002 was the series 5 version of Kat 3 whilst the Kat's Whiskers in 2003 was the Series 6 version of Kat 3.
It worked with Snowstorm in the Football and formed Team Snow Cat. Team Snow cat won their first match 7-1 against Mighty Mouse and Wolf before winning their semi-final against A.A.T. and Savage Toaster 5-3. They, however, lost the final against Sprocket and Storm Chaser as Snowstorm left the competition as their gearbox had broke, leaving Kat's Whiskers to defend the on its own, causing Team Snow Cat to lose 5 nil.
Kat's Whiskers entered the Assault course, beating Stanoscloir in the first round. It lost to Wolf in round 2.
It returned to the Football alongside Snowstorm but lost to Skeleton Crew in round 1.