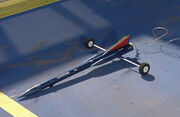 Lightstorm was the first in a series of rocket cars that went by the name Lightstorm. They were all built by
Laurie Calvert
but only two competed in the Techno Games the other was
Lightstorm 2
. It competed in
Techno Games series 2
. It was built several years before Techno Games. Lightstorm had run succesfully without a guide wire before techno games. A new car called Technostorm with four wheeled was used to open the 2003 Techno Games.
The side pods contain two parachutes. They are operated by ducting the exhaust gases from the central tube towards the side pods. They look great but were removed for TG. The car is designed to be robust and so weighs in at 141 grams. It is 57cm long and 34cm wide. Lightstorm has three wheels.
Appearance in Techno Games series 2
Edit
This was Lightstorms only appearance in the Techno Games. It competed over a 30 meter course. It ran on a guide wire as many of its competitors did due to competition rules, it was also fairly succesful. It finished second and picked up the silver medal in the rocket car final in a time of 1.634 seconds. It reached a speed of 75 mph (108 kph) and was the fastest survivor as the winner, a car called Lightning broke up. Lightning set a new world record of 1.328 seconds which was surpassed by Lightstorm 2.