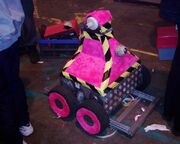 Pink Pants
was a
Assault Course
and
Football
entrant from
Techno Games
2003. It was actually Pussycat from Robot Wars and its Team had entered every Series aside Series 6 (Series 1 and 2 with Bodyhammer, Series 3, 4, Extreme 1, 5, Extreme 2, 7, 2016 Series with Kill-E Crank-E).
It formed Team Pink in the Football competition where it worked with RaMyA. Team Pink was beaten in the first round of the Football by Team Typhoon, losing five-nil.

It also lost to Incy Wincy in round 1 of the Assault Course.