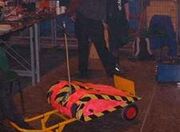 RaMyA (Razer My Arse) was a Football and Sumo entrant from Techno Games 2003. It worked with Pink Pants in the Football. Team Terrafonics had previously reached the semi final of the 2001 Battery Sprint with Photophattiephobia. It was actually called TX-108 and was built by Team Terraphonics.TX-108 had a vertical crusher as a weapon and was grey. It failed to qualify for Series 5 to 7 of Robot Wars, however TX-108 had beaten Hypno-Disc in a unaired Wildcard Warrior fight in Extreme 1. TX-108 is now retired but has been replaced by TX-109, which is now called Apex.
It formed Team Pink when it worked with Pink Pants. Team Pink was beaten in the first round of the Football competition by Team Typhoon, losing five-nil.
It also competed in the Sumo and beat Rhino at least.