Scuttle was a Battery Sprint/Lightweight Sprint entrant from Techno Games 2000-2003. during all four series of Techno Games. Despite losing to Waddle by disqualification in 2000, it was very successful as it won Battery Sprint in Series 2 and 3 events and breaking numerous world records. The team also built a larger version of Scuttle called Scuttle-B-Squared, which won the Internal Combustion Sprint in Techno Games 2002/2003 and also competed in the Assault Course in 2002 with Transpower.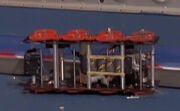 Scuttle's only heat in Series 1 was against the much slower Waddle. Despite Scuttle having the much faster start, it went out of control and almost all of its legs came off the track. Scuttle fell onto its side and it was put back onto its feet. Scuttle ended being disqualified after reaching the finish line with no legs left. Because of this, Waddle had no competition and finished smoothly at 3:43:93. This meant that Scuttle was eliminated from the Battery Sprint.
Creepy Crawler, Pharodynamic and Grinsect was Scuttle's first opposition in 2001, winning after obliterating the world record with a time of 5.40 secs.
Millennium Bug, Junior and Photophattiephobia was Scuttle's opposition in the semi finals. Scuttle won (with a slower time of 7.01 secs) but Millennium Bug and Junior also qualified for the final (1:01.62 secs and 1:21.61 secs)
Millennium Bug, Cheeky Boy 1 and Junior faced Scuttle in the final and Scuttle won (with a slower time of 7.28 secs) with Cheeky Boy 1 coming second (11.84 secs) and Millennium Bug coming third (1:00.62 secs)
Scuttle returned for a third year and faced Strut, Cyber Snail and Lovebug, winning by breaking its own world record time 4.40 secs.
Outside Techno Games
Edit
The team also competed in Robot Wars with Robo Doc in The Second Wars, 101 in The Third, Fourth and Fifth Wars, and Anarchy in The Sixth Wars which the latter two machines competed in Series 3 and 4 of Techno Games as Transpower and Scuttle-B-Squared respectively.