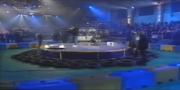 Sumo was a event in Techno Games 2002 and 2003. It mostly featured renamed robots from Robot Wars.
Rules on qualifying to round 2 changed after Sprocket was disqualied for using its lifter to lift Bruiser against and over the Dojo wall in round 1 of 2003's competition. Said rule change was that the quickest time qualified, this resulted in Bruiser being eliminated despite the team claiming that they should have had a default time of zero due to Sprocket's disqualification.
Ickle Toaster's only known match was not aired.
Medalists
Edit
Match results
Edit
Ridgeback vs Hellbound: Hellbound won (13.22 secs)
Mighty Mouse vs Chip: Chip won (17.32 secs)
British Bulldog vs Storm Chaser: Storm Chaser won (04.50 secs)
Sprocket vs Big Bro: Big Bro won (03.94 secs)
Hellbound vs Big Bro: Big Bro won (11.19 secs)
Storm Chaser vs Chip: Storm Chaser won (4.75 secs)
Chip vs Hellbound: Chip won (09.62 secs/Play off)
Storm Chaser vs Big Bro: Big Bro won (04.25 secs/Final)
Known matches
Edit
It is assumed that Ickle Toaster and Storm Chaser met in round 2 due to Storm Chaser beating Joker in round 1. Ickle Toaster's match wasn't shown.
Ickle Toaster vs Storm Chaser: Storm Chaser won ( secs/Ickle Toaster was disqualified after breaking the wall of the Dojo off whilst slamming Storm Chaser into it)
Line up of the matches
Edit
British Bulldog vs Wipeout: British Bulldog won ( secs)
Sprocket vs Bruiser: Bruiser won by default, failed to qualify for round 2 ( secs/Sprocket was disqualified for using its lifter to lift Bruiser against and then over the Dojo wall)
51 vs V-Bot: V-Bot won (55.78 secs)
Manannan vs Torti: Torti won and qualified (49.91 secs)
Storm Chaser vs Joker: Storm Chaser won and qualified (18.32 secs)
Devil Rider vs Hellbent: Hellbent won and qualified (50.40 secs)
RaMyA vs Rhino: RaMyA won
All Torque vs Big Bro: All Torque won and qualified (47.65 secs)
All Torque vs Hellbent: All Torque won (50.28 seconds)
Storm Chaser vs Torty: Storm Chaser won (16.59 seconds)
Storm Chaser vs All Torque: Storm Chaser won (25.40 seconds) ( secs/Final)