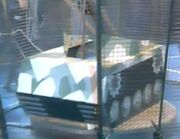 Super Slinger
was a
Shot Putt
entrant from Techno Games 2001 and 2002. Super Slinger overall looked like a tank in 2001, but changed appearance completely for 2002. It performed well Techno Games 2001 winning Gold in 2001 but coming joint third in 2002.
Super Slinger broke two world records in one run. The first shot tossed the ball to the 11.42 meter line. The second shot tossed the ball over the sand pit and scored 15.14 meters. This second shot damaged the end of the sand pit and caused the event to held out side the following year.
Super Slinger returned with a new appearance but failed to throw the ball first throw. It broke its own record with a throw 16.4m but its WR distance from 2001 had already been beaten by Armstrong (15.6m), B.B.B.F. (26.8m) and Total Recoil (30m) on their first throws. Overall, it was joint third alongside Sir Lobalot.