Tango was a robot from Harrow School in Middlesex that competed in the Swimming event during Series 3 of Techno Games in 2002. It was finished in three months and is powered by 36V electric motors. It managed to win its first heat against Leggy Peggy, but it lost in the quarterfinals to Roboduck.
Tango's team entered the Swimming with Calypso in 2000-2002 (winning Gold in 2000) and Battery Sprint entrant Salsa in 2001.
Robot History
Edit
Techno Games 2002
Edit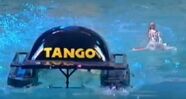 In Tango's first heat, it went up against Leggy Peggy and three other machines. The heat was pretty much between Tango and Leggy Peggy, and Tango finished first at 21:07 seconds with Leggy Peggy finishing second at 22:03 seconds. This win put both robots to the swimming quarterfinals.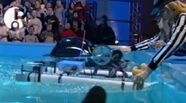 In its quarterfinal heat, it went up against Leggy Peggy again along with Tad 1, Hydrodeuce and Roboduck. While Leggy Peggy was fighting against Hydrodeuce for third place in the heat, Tango was neck and neck with Roboduck for a spot in the Swimming finals. This ended up being a very close finish as Roboduck finished at 18:52 seconds while Tango finished second at 19:56. Despite Tango finishing second in the heat, it was the first place winner only to go through to the Swimming final and since it finished second, it was eliminated from the Swimming overall.