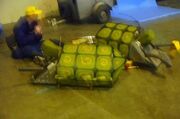 Torti was a Football and Sumo entrant from Techno Games 2003. It was in fact The Morgue from Robot Wars. Its name was a pun on Fransecco Tottis name. The team also entered with Penalty Kick entrant Cybertenic in 2002-2003 and Shot Putter Vesuvius in 2001.
In the Sumo, Torti faced Manannan in round 1 and won after keeping close to the wall before taking advantage of Manannan's habit to rear up to push it off easily. It eventually won the bronze medal.

It worked with Slowman to form the Football team One Foot in the Goal.