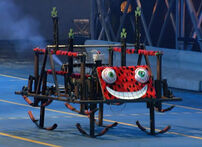 Ulysses
was a competitor in the
Internal Combustion Sprint
of
Techno Games
2001 and 2002. It had a petrol driven (50cc engine) Walker built by Team Nemesis, they also entered the Assault course with
Stanoscloir
. Ulysses is a name from Roman Mythology.
Ulysses made a spectacular debut against Sprint Fish and Miss Struts, smashing the world record with a time of 51.62 secs. It beat reigning champion Tecumseh in the next and final round to claim the Gold and become Champion.
It returned the following year, beating Black Widow in round 1 and Clod Hopper in round 2. It lost in the final to Scuttle-B-Squared.