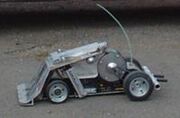 Wipeout
was a
Football
and
Sumo
entrant in Techno Games 2003. The same team entered
Savage Toaster
in the Football of 2002 and 2003. Wipeout was actually a robot called
Onslaught
and entered Series 2 to 5 of Robot Wars. It was retired in 2005 and replaced by Ka-Pow!. Ka-Pow!, and later a Ka-Pow! 1.5 in 2013, was built and it has a paint job based on that of Savage Toaster's. Oddly, Wipeout was driven in reverse in the Sumo as the drive wheels was normally at the rear. More proof it was driven backwards is the fact the motor is at the "front" and the frame wedge that normally supports the weapon of Onslaught is pointing backwards, when they are the other way round normally.
In the Sumo, it met and lost to British Bulldog in round 1. British Bulldog pushed Wipeout into the wall, lifting the drive wheels off the ground before letting it go and pushing Wipeout off the Dojo.

It is currently unknown which robot it worked with Football.