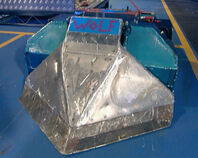 Wolf was a Assault Course and Football entrant from Techno Games 2002. Wolf was actually called Wolverine. It was a stand-by for series 3, but managed to qualify for the Fourth Series, however, it blow a interface card the night before filming. It finally competed in the Fifth Wars where it lost its only fight to the Wheely Big Cheese who tossed out of the Arena.
Wolf beat A.A.T. in round 1 before beating Kat's Whiskers in round 2. Wolf beat Big Bro in round 3 before losing to Bugs Buggy in the final.
It entered the Football competition, working with Mighty Mouse but lost to Team Snow Cat in round 1.